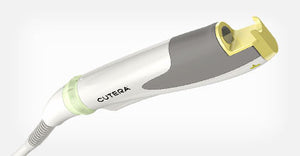 Laser Genesis
Laser Genesis 
The Laser Genesis is a non-invasive laser treatment used to restore the skins tone and texture while also treating sun damage, underlying redness, scarring, large pores, active acne, and fine lines and wrinkles. This heat-based laser treatment works by gently warming the dermis layer of tissue, just below the skin's surface to encourage the body's natural healing process and stimulate collagen growth. This treatment is gentle and relaxing, with zero downtime or recovery.

How does it work?
The Laser Genesis is a non-invasive and non-ablative comfortable laser treatment used to gently heat the skin. The laser itself looks like a small wand attached to a larger machine. Your provider will treat the face or another area of concern in sections to deliver the maximum amount of heat while still remaining relaxing and comfortable. Each area will be treated with the laser in a consistent motion. You can expect to feel a warm heat on the skin, many people say it is enjoyable and reminds them of laying in the sun.
What to expect
The Laser Genesis is often called the "lunchtime" facial as it typically performed in under 30 minutes. The Laser Genesis is an effective treatment on its own but is paired well with other services to further enhance results. Turn this quick procedure into a full hour of pampering by adding a dermaplane facial called a "Dermal-Genesis".
 
What are the benefits
The Laser Genesis provides an array of benefits for all skin types and different concerns. By stimulating collagen growth in the skin, this helps to deliver a firmer, tighter, and more even complexion. The Laser Genesis is used to treat sunspots and has been very beneficial addressing conditions such as rosacea and any underlying redness in the skin.  
---