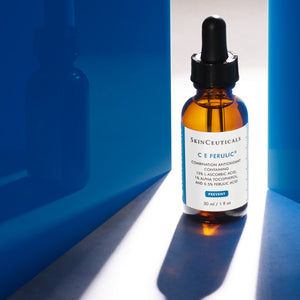 Do you wear antioxidants for healthier skin?
Many of us know of the importance of antioxidants in our diet, but do you know that they are equally as important to include in our skin care?

By definition, antioxidants are a substance that can prevent or slow damage to cells caused by free radicals. Free radicals are unstable molecules that when accumulated over time cause oxidation. For example, if you have ever seen a brown spot on an apple, you have witnessed oxidation! Similar to the apple, over time our skin can begin to oxidize if we are not properly protecting our skin from environmental factors such as pollution, UV rays, cigarette smoke, and other harmful chemicals. It is that exact reason that including an antioxidant product to your morning skin care routine is vital! But there are so many to chose from, so I am here to help break it down for you!
Starting off the antioxidant train with the holy grail product - SkinCeuticals C E Ferulic. C E Ferulic is an advanced vitamin C combination antioxidant that provides 8x the skin's environmental protection against atmosphere aging. Through SkinCeuticals clinical research it has been proven to protect against environmental free radicals, enhance the skins radiance and brighten the complexion, as well as increase firmness and reduce the appearance of fine lines and wrinkles. Vitamin C, vitamin E, and ferulic acid have a synergistic effect that when presented together provide a higher level of protection than each of them alone. For optimal results, apply 4-5 drops on clean, dry skin in the morning!
SilyMarin CF is a Salicylic acid acne treatment consisting of high potency antioxidants formulated specifically for oily and blemish-prone skin. The antioxidants combined with salicylic acid help to prevent signs of aging, refine skin texture, improve skin clarity and fine lines, and is clinically demonstrated to reduce oil oxidation in the skin by up to 76%. This oil-free formula is the perfect solution for anyone struggling with breakouts and is looking to protect their skin from harmful environmental factors. For optimal results, apply 4-5 drops to clean, dry skin in the morning!
Next on the list is a SkinCeuticals Vitamin C in gel form; Phloretin CF Gel! Unlike other Vitamin C's, the Phloretin CF Gel allows the active ingredients to be suspended into the skin and drive straight to the target site in the skin for maximum effects. This product is great for all skin types and concerns, but it is worth mentioning that it is well tolerated by men after shaving! Once this gel is absorbed into the skin, its protective benefits remain effective for 72 hours... pretty cool. For optimal results, apply 2 pumps of this treatment to clean, dry skin in the morning!
Next up, Vivier Advanced Skin Lightening Serum is a 2-in-1 product containing both Vitamin C AND 2% hydroquinone. This medical-grade solution is clinically proven to lighten and brighten uneven pigmentation, age spots, liver spots, and freckles, all while simultaneously fighting against environmental stressors. This product is highly recommended to be used to maintain results following pigmentation protocols such as laser treatments or chemical peels. For optimal results, apply 2-3 drops to clean, dry skin in the morning or night!
Here we have the ZO Skin Health 10% Vitamin C Self- Activating; a potent dose of Vitamin C that brightens the skin and promotes a more even skin tone, helps minimize the appearance of fine lines and wrinkles, and fights against environmental triggers. This product contains a variety of antioxidants to prevent dark spots and protect the skin, as well as squalene to mimic our body's own natural moisturizer factor for additional hydration. For optimal results, apply one pump to clean, dry skin in the morning! 
Last but certainly not least, we have the SkinCeuticals Resveratrol B E first of its kind- nighttime antioxidant! This product is the highest concentration of Resveratrol sold in today's market. If you are familiar with Resveratrol, you know that it is considered to be the "longevity molecule", famously found to be in red wine. This potent antioxidant helps strengthen the skin and neutralize harmful free radicals that cause the skin to age over time. Resveratrol B E works overnight as you sleep to build up and restore the skins ability to thrive. For optimal results, apply 1-2 pumps to a clean, dry skin in the evening!
---